"Watching Spring Breakers play out to its morally unsatisfactory (in)conclusion, I thought finally of Marcuses's concept of "repressive desublimation". Way back in the 1960s the Frankfurt School associate grasped that capitalism had an interest in creating wanton consumers, insatiable and impulsive. External constraints on our appetites for sex and destruction still exist (police, law, social services etc) but they are contradicted and undermined by a consumer capitalism that erodes internal restraints like guilt and inhibition, the ability to deter gratification, even the capacity for linear thought. Stimulating desire and narcissism, the economy's interests collide with those of other political structures like church, education and family, all of which aim to channel energy into long term projects ('heaven' being the longest-term of them all). Capitalism and advertising, as well as their bedfellow pop culture, have harnessed Romanticism not for representative ends (unrepression is precisely the modus operandi) but for the dissipation of energy and the displacement of anger from any kind of political articulation. 
When a pop-star as bland as Katy Perry can sing, in her number one hit TGIF about binge drinking past oblivion and menage-a-trois romps, it seems pretty clear that excess is normative and 'breaking loose' just another set of chains. Likewise, of Spring Break and Spring Breakers, I found myself wondering: if this is the beach underneath the pavement what, if anything, lies beyond the beach? Pop culture in its present state has exhausted its point; its incitements to poor impulse control and attention-deficit disorder no longer threaten anything"
Simon Reynolds writing about Spring Breakers in Sight & Sound 
"Under the shadow of the drone" timelapse video
If as Martin Weigel posits in his recent Canalside View post the question we need to be asking is:
"What can we do to make this brand easy to think of, and easy to buy?"
Then this Yo Yo Bear example may be an answer to the second half of the question. 
Photo care of Adam Morgan on his Eat Fish Blog 
A wonderful example of making a brand easier to buy.
Punchdrunk: The Drowned Man.
Tickets and more info here
In terms of time, however, the picture seems to be narrowing. Public attention is increasingly focused on very near futures: businesses live in terror of the bottom line and the quarterly results, while politicians quake at tomorrow's opinion polls and formulate policy in terms of them. We've heard tales of farmers planting olive trees or vineyards for their grandchildren to harvest, or of foresters cultivating groves of oaks to replace a chapel roof hundreds of years in the future, but by and large, we don't do that anymore. We have less active engagement with our future than our ancestors did.
—Brian Eno writes to Nicholas Nassim Taleb (author of The Black Swan, Anti-fragility) as part of Jem Finer's Longplayer project, which is creating a 1,000 year long musical composition.
When there's no linear tie, how is a person supposed to figure out what's going on? There's no story, no narrative to explain why things are the way things are. Previously distinct causes and effects collapse into one another. There's no time between doing something and seeing the result. Instead the results begin accumulating and influencing us before we've even completed an action. And there's so much information coming in at once from so many different sources that there's simply no way to trace the plot over time
Last week a mysterious Boards Of Canada 12" was discovered in a record shop in New York called OTHER MUSIC. It contains 20 seconds of music and a spoken number.
Boards Of Canada have a slightly obsessive fanbase not dissimilar to those in William Gibson's Pattern Recognition that obsess over THE FOOTAGE, a strange collection of short anonymous artistic film clips that have no sense of narrative.
It would appear that Boards Of Canada (or someone at their record label WARP) has decided that they should take inspiration from Pattern Recognition and develop a similarly orchestrated global campaign as it was confirmed that there are 6 records and they are each in a different country. Yesterday a record was 'found' in Rough Trade East.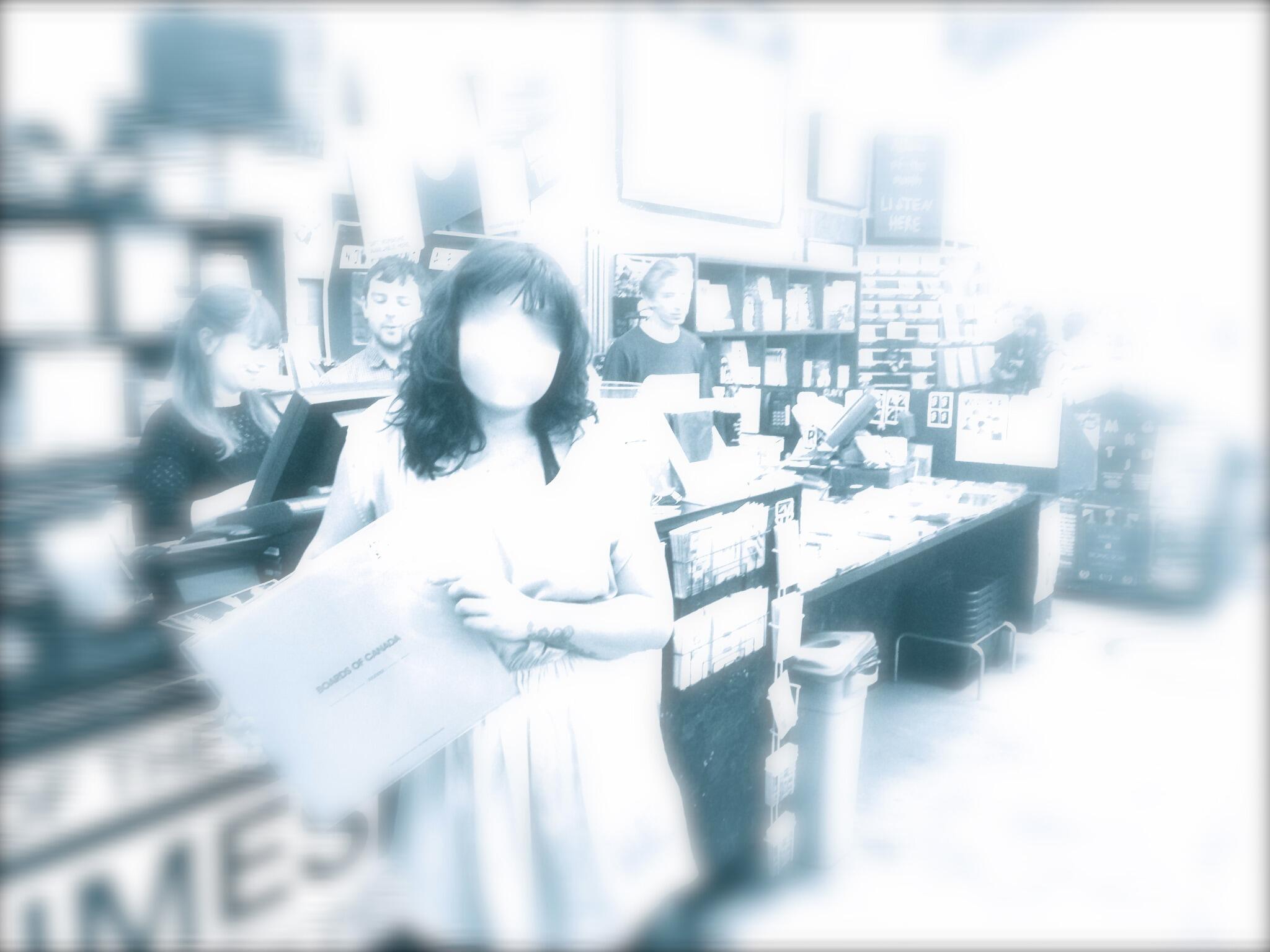 It's not just limited to record stores though as Zane Lowe on Radio 1 played a different 20 second sample than what had been found with a new number sequence last night. 
And there are further number theories floating around various Boards of Canada uploads on Youtube. In fact a similar dash and xxxx sequence was left as a comment on a video several years ago. Which is probably the best bit and has made several fans heads explode. 
The whole thing is oblique and interesting and has Twitter fascinated by its scope. It's not the usual FACEBOOK ANNOUNCEMENT - RADIO 1 EXCLUSIVE - TOUR - ITUNES BLAH BLAH BLAH model of the music industry. Noone even knows where this is leading (maybe a new album unexcitedly) but that is part of the fun. Maybe people are seeing meaning in nothing. Maybe its all apophenia. 
You can read about it all in more detail here including the complex number theories. 
It all sounds like a William Gibson novel. Where is Cayce when you need her? 
I'm always intrigued by the talk of brands needing to be more simple yet sometimes being more complex can have its place. Its the old and/or debate. I'm fascinated by what happens next and where this will end though. 
"When you drive on the sunset strip and see these billboards [a giant billboard advert for the album greeted those driving down the highway to Coachella this month], it's more magical than a banner ad"
Thomas Bangalter
Guess what - doing cool shit IRL is more interesting than banner ads. I preferred it when Daft Punk were making blazing techno like this than what appears to be disco lounge vibes (and to be honest Human After All was a massive disappointment) but the campaign for the new album is interesting. 
And other people think so including this guy who took the first 15 second loop that debuted in Saturday Night Live and looped it for an hour.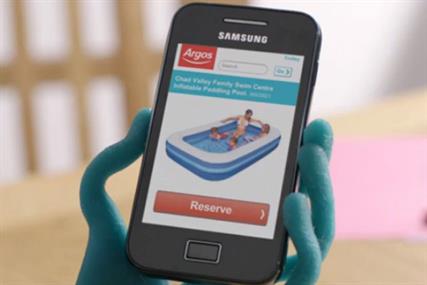 http://www.marketingmagazine.co.uk/bulletin/dailynews/article/1178143/?DCMP=EMC-CONBreakingnewsfromMarketing
Argos are apparently plotting the store of the future. Apparently this involves kitting out stores with "web browsers, wi-fi and fast track collection services." Pretty futuristic. It would appear they're suffering from present shock and have lost sense of what the future is. 
If I was Argos I'd be looking beyond the 'present' to re-imagining what their proposition looks like in the near-future and far-future. They should probably read this  and think about their core premise of "order and collect" and embrace 3D printing. As nascent as it is they bizarrely are a brand in a prime position to capitalise on it. As home '3D printers' come crashing down in price we may well need bigger more complex 3D printers for larger items. Argos I'd argue should be thinking about this - taking a brand blueprint, customising it and then sending to Argos to print and then collect links perfectly to what they currently do but stretches them into the future. 
Argos could be the brand that leads the market in this area. I wonder if they'll figure it out.